Affordable Kitchen Cabinet Refacing in the St. Louis area!
QUICK AND SIMPLE
Get custom cabinet refacing installs in the completed in days not weeks, and your kitchen is functional the entire time.
ONLINE ESTIMATES
Get a free budget estimate from photos and a quick survey. Video responses and Zoom meetings available.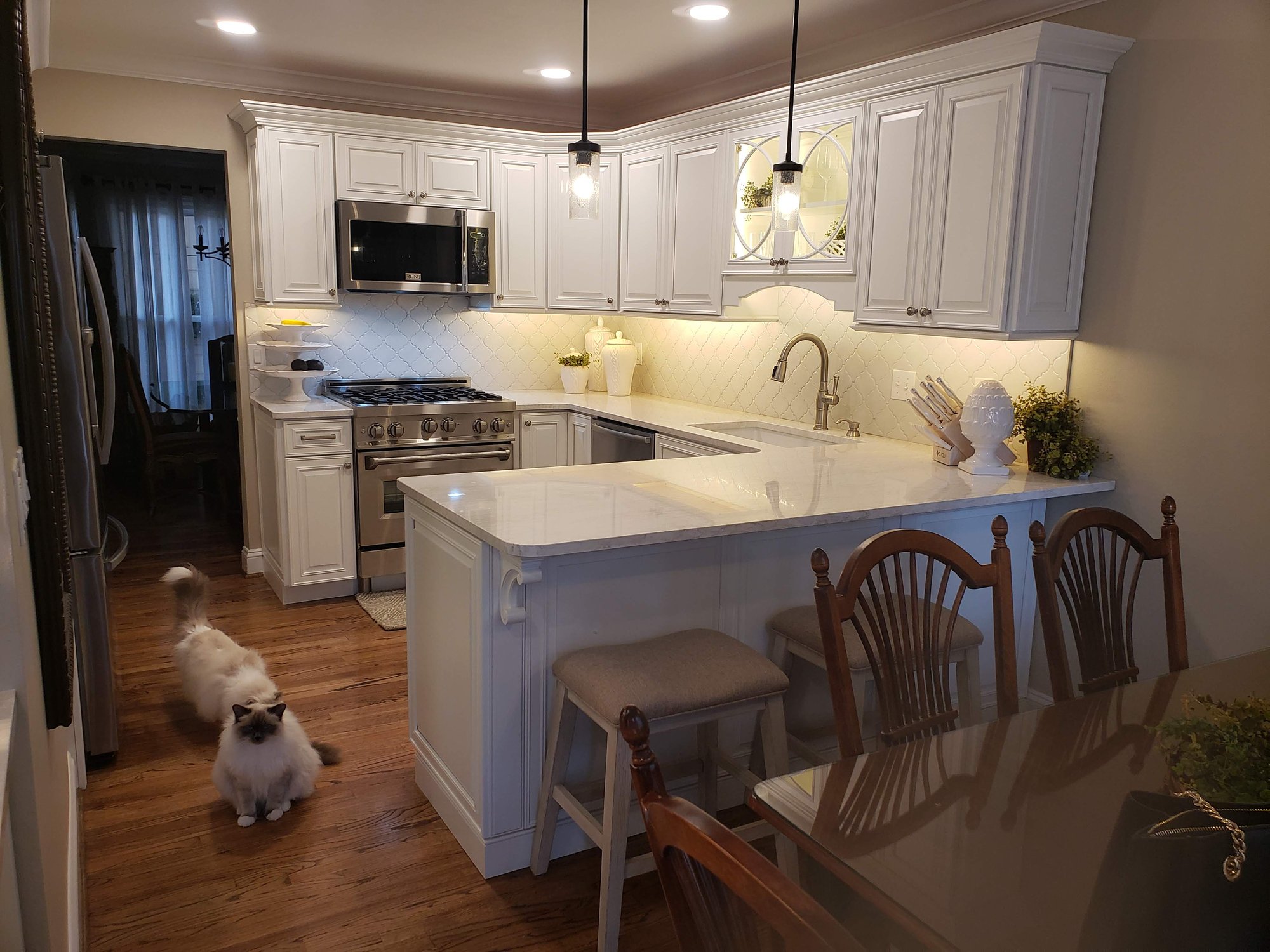 What's Best For You?
We have many solutions to turn your cabinets into a showcase.
Creative Design Features and Storage Improvements.
Free Cabinet Refacing Guide with Pricing Examples.
Solve these Common Cabinet Refacing Problems.
We have solutions that fit any budget; from a simple color change to a complete custom update!
What People Are Saying About Our cabinet refacing
st. Louis Missouri Area
BEST DECISION!

We are very happy with the quality of our new kitchen cabinets, island and peninsula.David and Stephanie were meticulous with all the details from painting, attaching corbels, installing soft close features on drawers and cabinets and lots of other extras I came up with😊!

They are hard working dependable people. You won't be sorry if you hire them, it was one of the best decisions I ever made!
ATTENTION TO DETAIL!

South County

They just finished our cabinets today and we couldn't be more pleased. They were great people to work with and very quick to respond to all our questions. Their bid was much better than others. Don't let the lower bid fool you as they do amazing work and the attention to detail was outstanding. They showed up on time and cleaned up at the end of every day. We highly recommend them for painting and refacing cabinets.
PLEASANT AND PROFESSIONAL DUO!

St. Louis City

I worked with Fresh Faced Cabinets to replace my upper cabinets and resurface/paint my lower kitchen cabinets. Stephanie and Dave are a pleasant and professional duo, who are incredibly knowledgeable in this kind of project. My kitchen had some serious quirks, but they had solutions for everything and were very specific in the bid they put together. I appreciated their quick, thoughtful responses to my questions during the bid process and the work itself. Most important, my kitchen looks great!! I highly recommend their work.
Cabinet Door Replacement and Refacing
We have a wide selection of kitchen cabinet refacing solutions. From a simple cabinet door replacement, to full veneer refacing for the cabinets. Our doors are made in the U.S.A. and rival the quality of premium cabinet lines.
Partial Cabinet RePlacement
A great way to get the feel of a full remodel without the long install of a full remodel is to replace all of your upper cabinets, and reface your lower cabinets. This provides a dramatic affect when replacing with taller 42" wall cabinets. It is also possible to change or add individual cabinets where needed.
Cabinet Upgrades
In addition to updating your cabinet fronts, we can also upgrade accents and storage. By adding crown molding, corbels and decorative panels you can turn your kitchen into a custom showcase. Replace drawer boxes and hardware and they will function like a new cabinet too.
Ready to Get Started?
Fill out the Project Evaluation Form: