PRICING FOR COMMON KITCHEN LAYOUTS
Kitchen Cabinet Remodeling Experts: Transforming Existing Kitchen Cabinets into High Quality Showcases.
We specialize in unique partial kitchen remodeling projects that often include adding/replacing cabinets, cabinet inserts (i.e. trash can & pull-out trays) and cabinet modifications (i.e. convert base cabinet to pot and pan drawers.) These options require on-site review for pricing.
The pricing below is to help you visualize and budget your kitchen cabinet remodel. See which ones best fit your kitchen, we'll refer to them in our initial design/budget conversations.
Estimate ranges depend on door style and material selections and design options.
Included in Estimates based on 30" Wall Cabinets:
Standard: New Doors and Drawers are Full Overlay
Standard: Soft Close Hinges
Standard: Handles/Knobs Included in Common Styles
Lowest Price Range consists of painting all cabinet boxes to match doors.
Middle of Price Range will include painted styles that include decorative end panels on islands.
Highest Price Range will also include veneering cabinet face frames for wood stained finishes.
Optional: Solid Wood Dovetail Drawer Boxes
Optional: Crown Molding
1) Galley/Condo Kitchen: $6000-$10500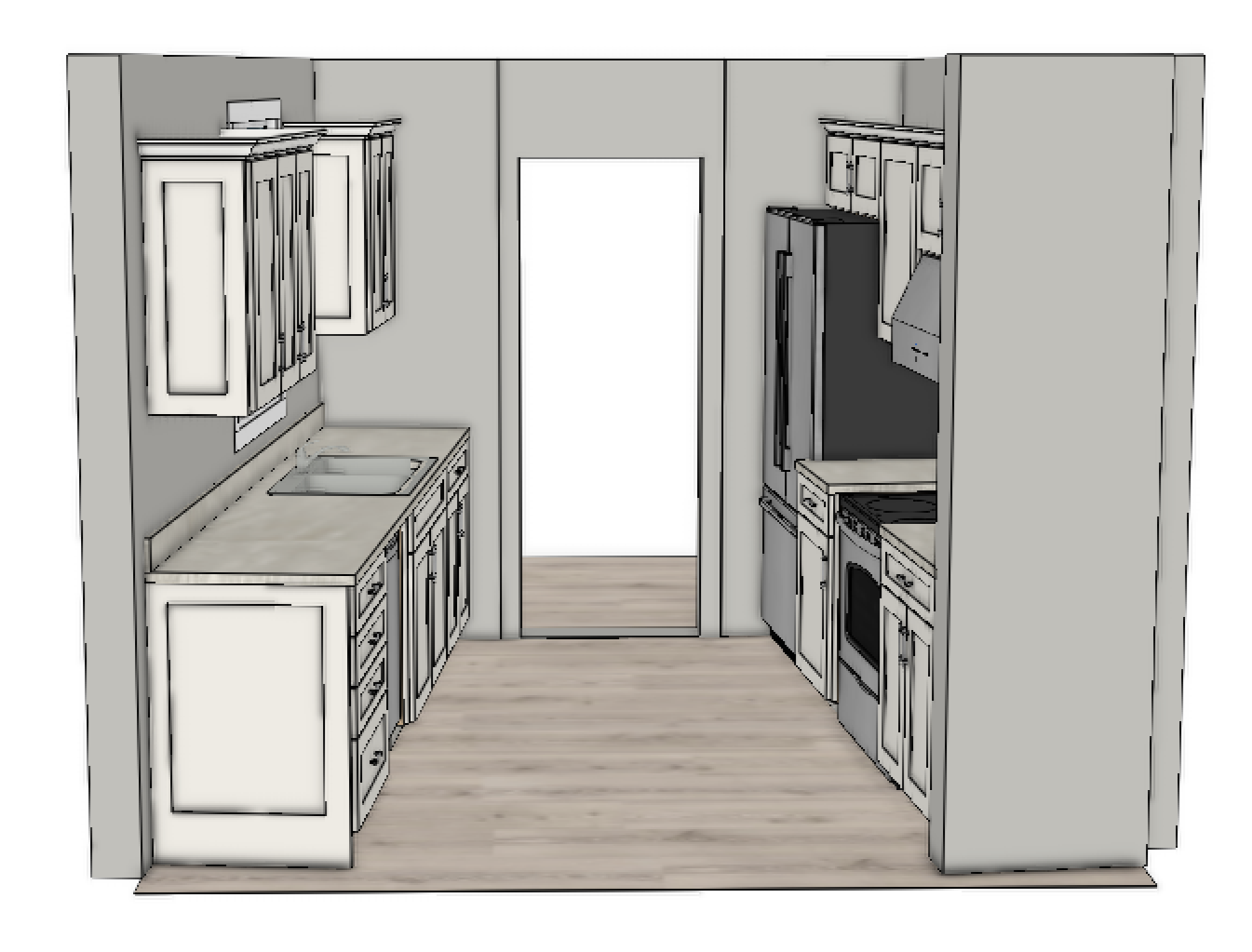 Layout Details

| | |
| --- | --- |
| Doors | 19 |
| Drawer Fronts | 8 |
| Replaced Drawer Boxes | 7 |
| Decorative End Panels | 4 |
| Island/Peninsula Decorative Back Panels | N/A |
Estimate Breakdown

| | |
| --- | --- |
| Standard Refacing | $6075 - $8159 |
| Common Options: | |
| New Drawer Boxes | $932 |
| Crown Molding | $772 |
| Total with Options | $7708 - $10562 |
| As Shown: Painted Shaker | $8683 |
2) Small "U" Kitchen: $6500-$11400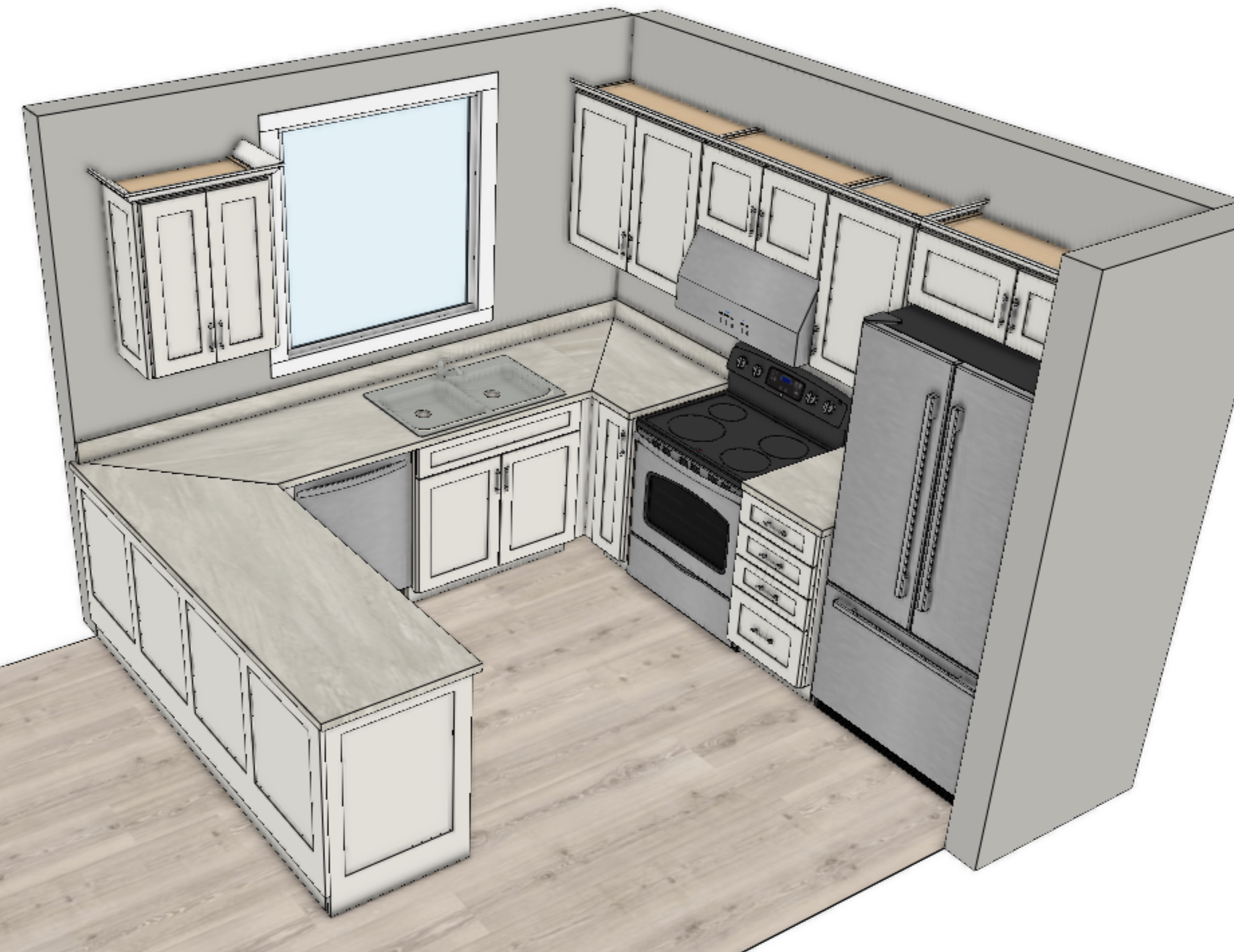 Layout Details

| | |
| --- | --- |
| Doors | 16 |
| Drawer Fronts | 7 |
| Replaced Drawer Boxes | 6 |
| Decorative End Panels | 3 |
| Island/Peninsula Decorative Back Panels | 7 ft. |
Estimate Breakdown

| | |
| --- | --- |
| Basic Refacing | $6560 - $9928 |
| Common Options: | |
| New Drawer Boxes | $798 |
| Crown Molding | $656 |
| | |
| Total with Options | $8015 - 11382 |
| As Shown: Painted Shaker | $9253 |
3) Small "L" Kitchen: $6700 - $11500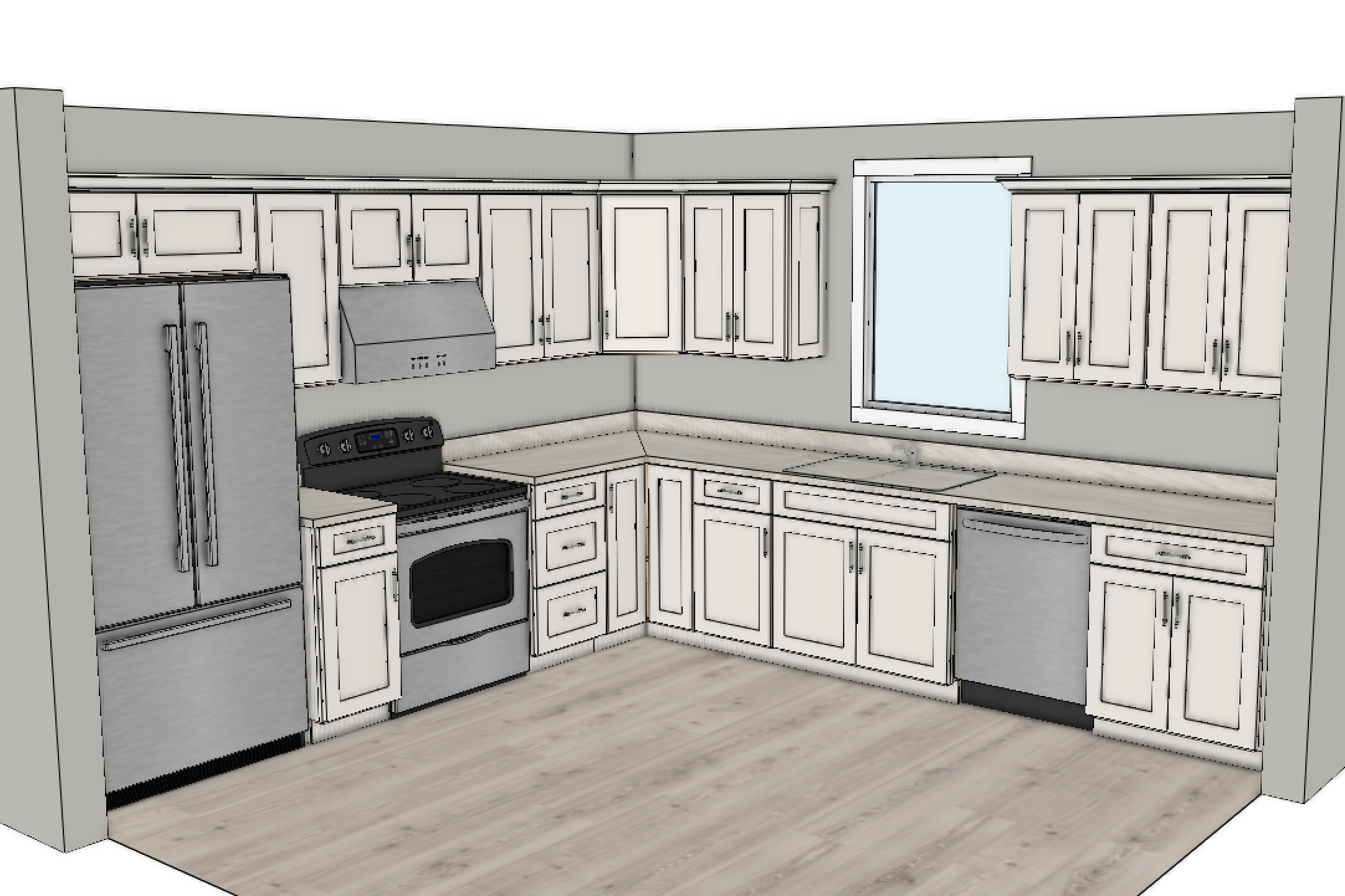 Layout Details

| | |
| --- | --- |
| Doors | 22 |
| Drawer Fronts | 7 |
| Replaced Drawer Boxes | 6 |
| Decorative End Panels | 2 |
| Island/Peninsula Decorative Back Panels | N/A |
Estimate Breakdown

| | |
| --- | --- |
| Basic Refacing | $6757 -$9540 |
| Common Options: | |
| New Drawer Boxes | $838 |
| Crown Molding | $862 |
| | |
| Total with Options | $8459 - $11241 |
| As Shown: Painted Shaker | $9348 |
4) Medium "L" with Island: $7200-$13700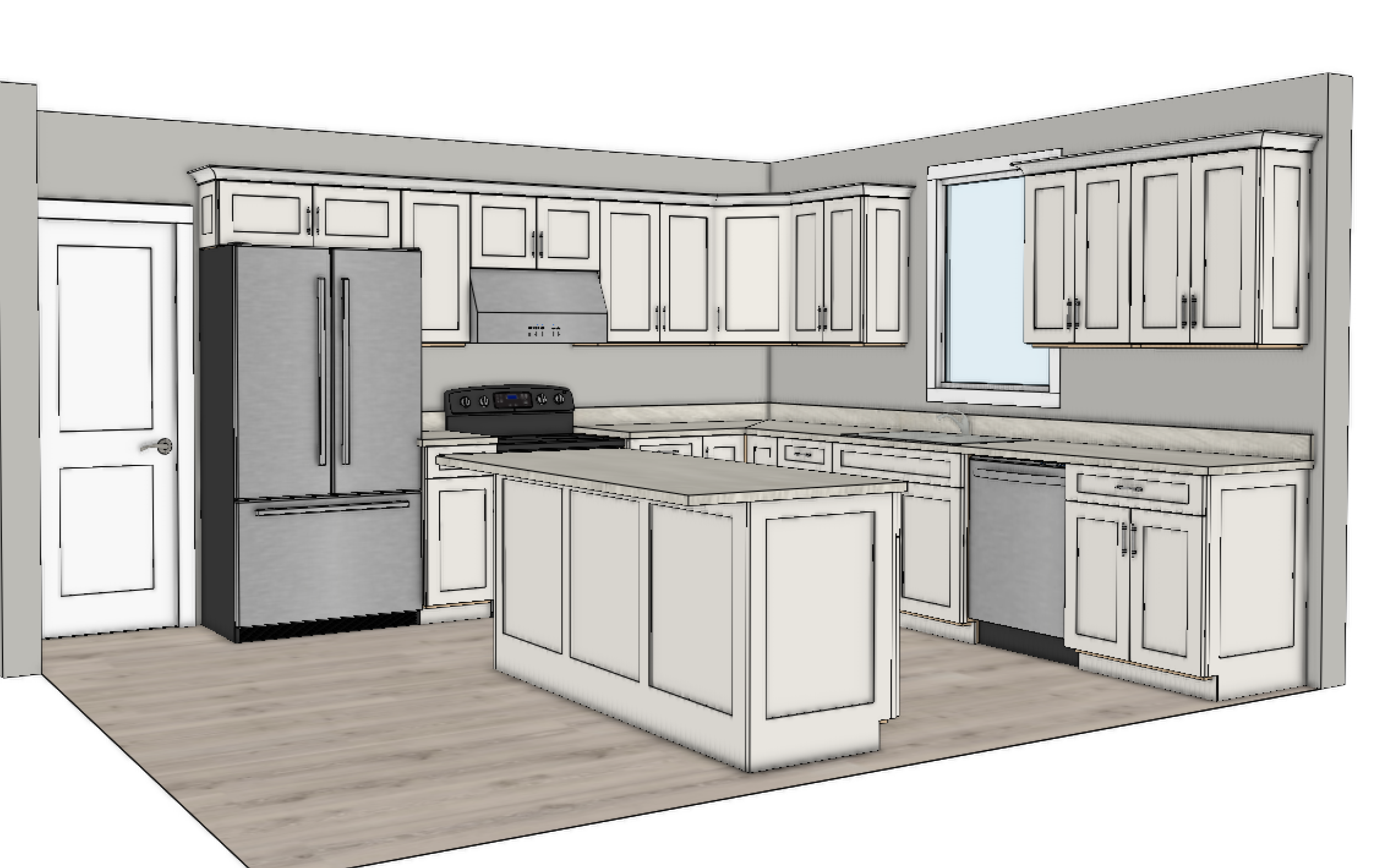 Layout Details

| | |
| --- | --- |
| Doors | 24 |
| Drawer Fronts | 11 |
| Replaced Drawer Boxes | 10 |
| Decorative End Panels | 7 |
| Island/Peninsula Decorative Back Panels | 6 ft. |
Estimate Breakdown

| | |
| --- | --- |
| Basic Refacing | $7227 - $11747 |
| Common Options: | |
| New Drawer Boxes | $1185 |
| Crown Molding | $765 |
| | |
| Total with Options | $9177 - $13697 |
| As Shown: Painted Shaker | $11799 |
5) Large "L" with Island: $9700 - 18200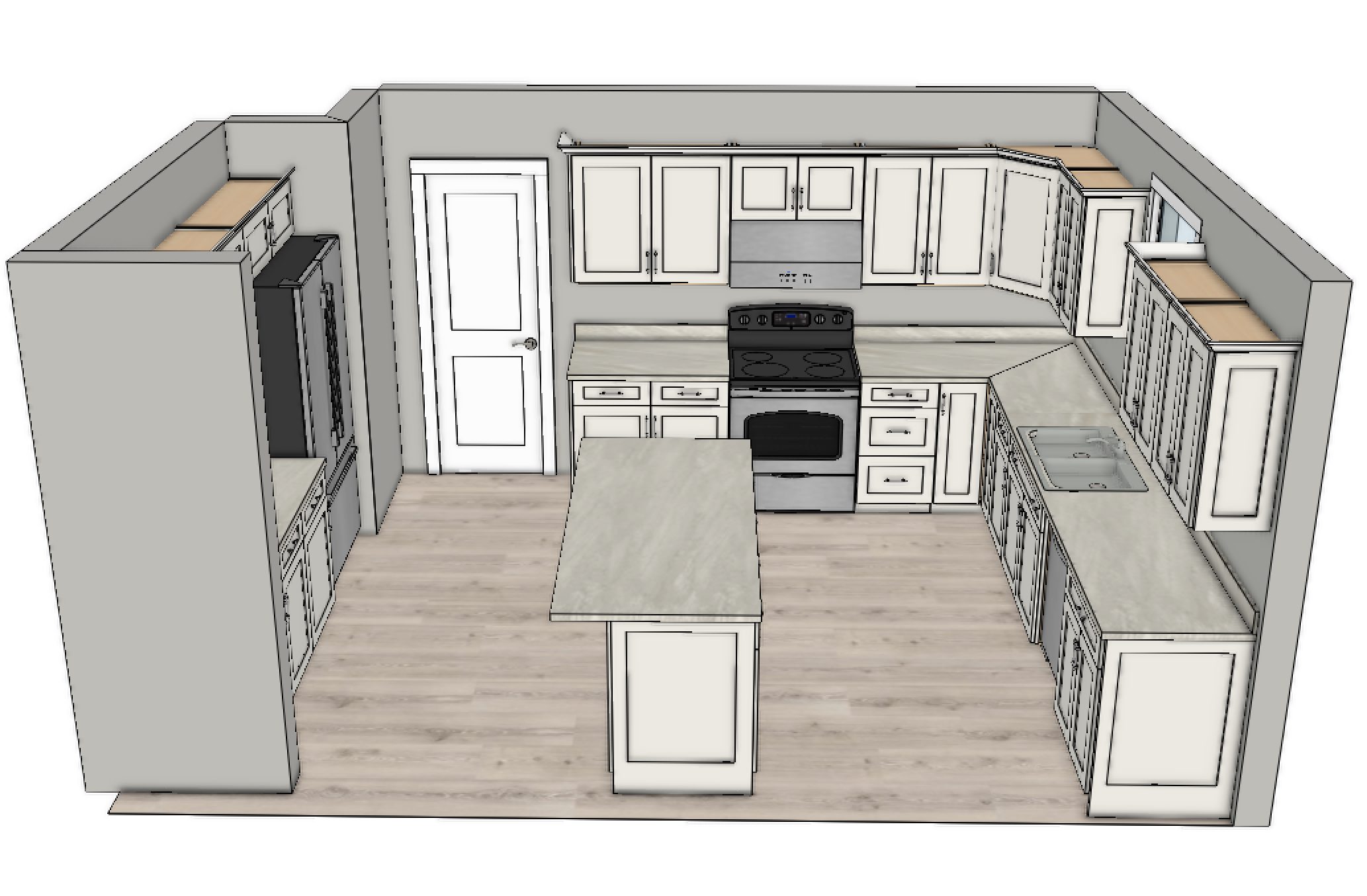 Layout Details

| | |
| --- | --- |
| Doors | 32 |
| Drawer Fronts | 15 |
| Replaced Drawer Boxes | 14 |
| Decorative End Panels | 6 |
| Island/Peninsula Decorative Back Panels | 6 ft. |
Estimate Breakdown

| | |
| --- | --- |
| Basic Refacing | $9715 - $15382 |
| Common Options: | |
| New Drawer Boxes | $1766 |
| Crown Molding | $1074 |
| | |
| Total with Options | $12556 - $18222 |
| As Shown: Painted Shaker | $14850 |
6) X-Large "L" with Island: $11400 - $21700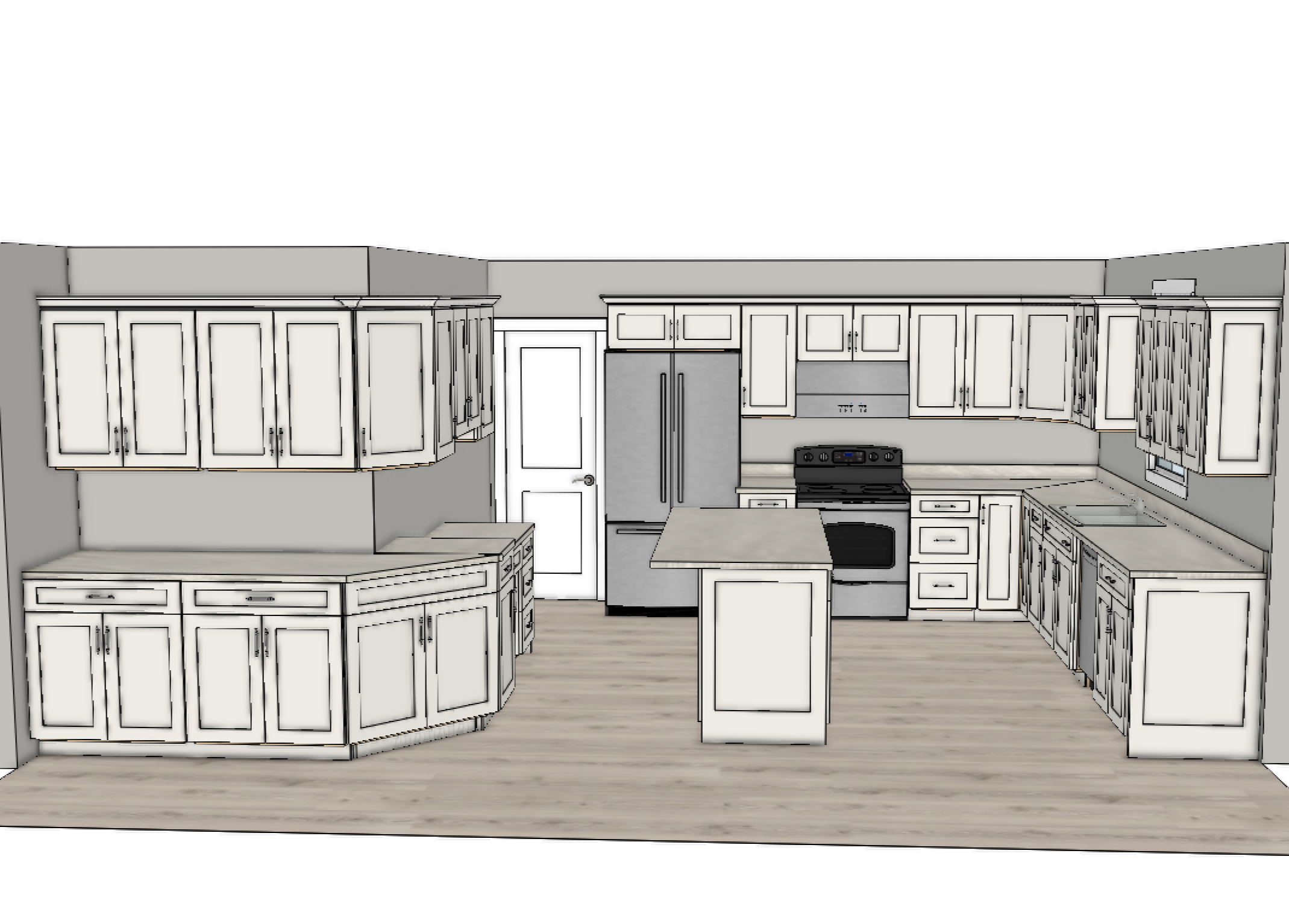 Layout Details

| | |
| --- | --- |
| Doors | 40 |
| Drawer Fronts | 17 |
| Replaced Drawer Boxes | 16 |
| Decorative End Panels | 9 |
| Island/Peninsula Decorative Back Panels | 6 ft. |
Estimate Breakdown

| | |
| --- | --- |
| Basic Refacing | $11493 - $18118 |
| Common Options: | |
| New Drawer Boxes | $2323 |
| Crown Molding | $1310 |
| | |
| Total with Options | $15126 - $21751 |
| As Shown: Painted Shaker | $17470 |