You can get a full remodeled feel to your kitchen by just replacing or redesigning a couple of cabinets, rather than tearing them all out. In fact, replacing just the upper cabinets with taller cabinets will give the feel of a complete redesign without having to remove your countertop and lower cabinets.
We'll take a look at common cabinets that are replaced, and areas that we frequently re-purpose with new cabinets.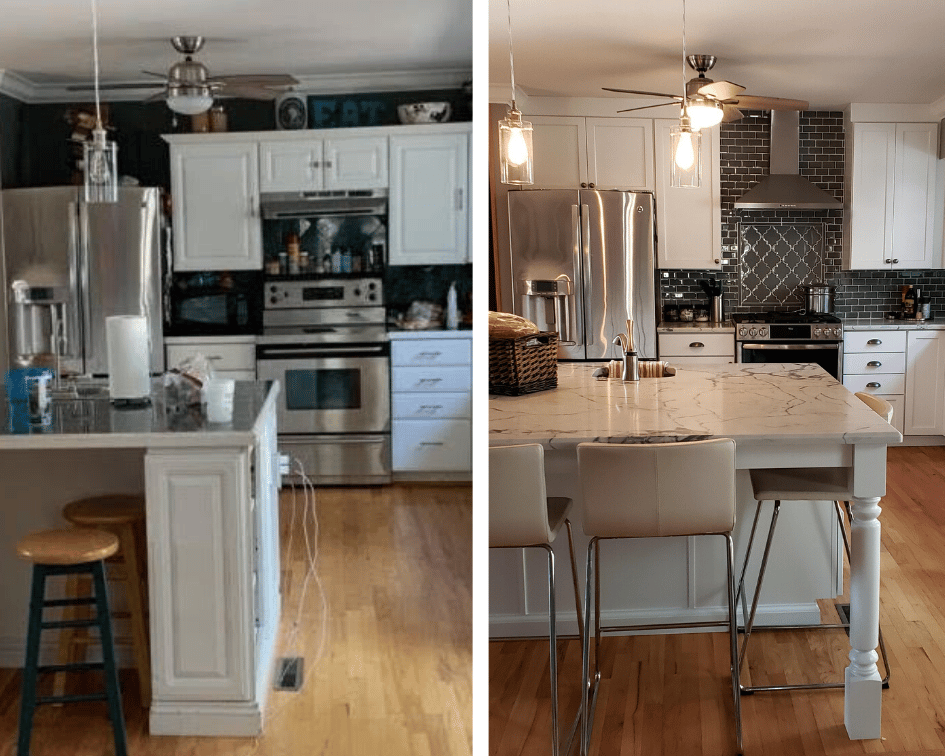 How Can I Replace All My Upper Cabinets?
As mentioned above, one of the best ways to get a full remodel feel, but save time and money is to replace all your upper cabinets and reface the lower cabinets.
This is most common when you are able to go from 30" wall cabinets to 42" tall wall cabinets. Adding crown molding can complete the transformation. You save on the costly replacement and tear out of your countertop, plus save on not replacing the more expensive base cabinets.
Can I Add or Remove Cabinets?
Often times you may have a blank wall to add a cabinet. We can add cabinets that will fit into your current design without replacing any cabinets. Removing cabinets for shelving, or to put in a new style of cabinet is also common.
In older kitchens where modern microwaves hang too low, we can put in a shorter cabinet above to raise it, or we can get a microwave off the counter with a new microwave shelf cabinet.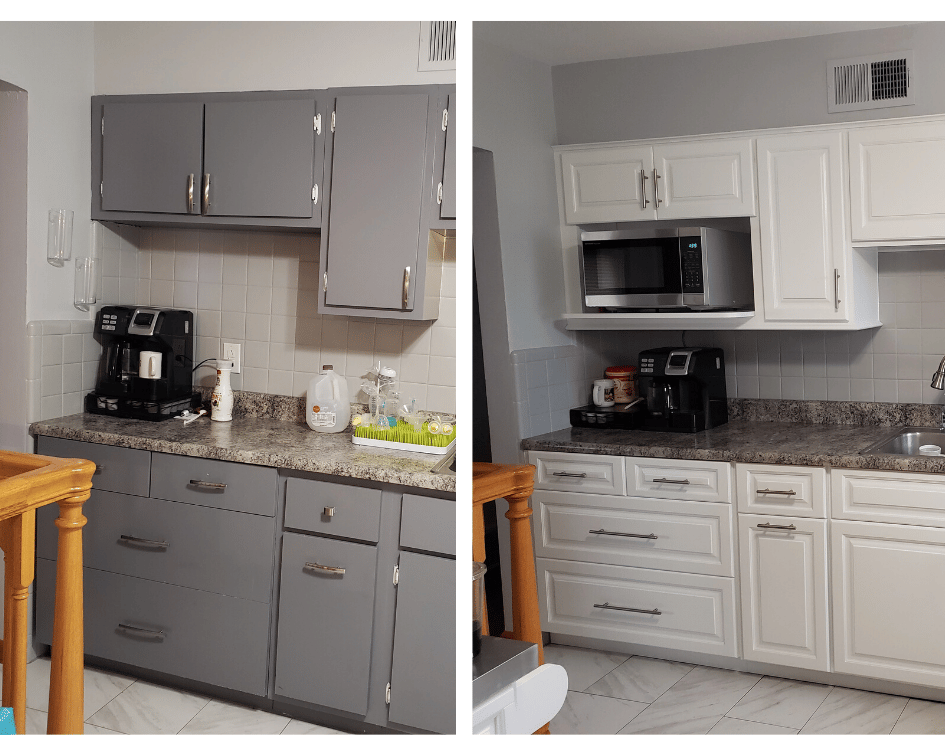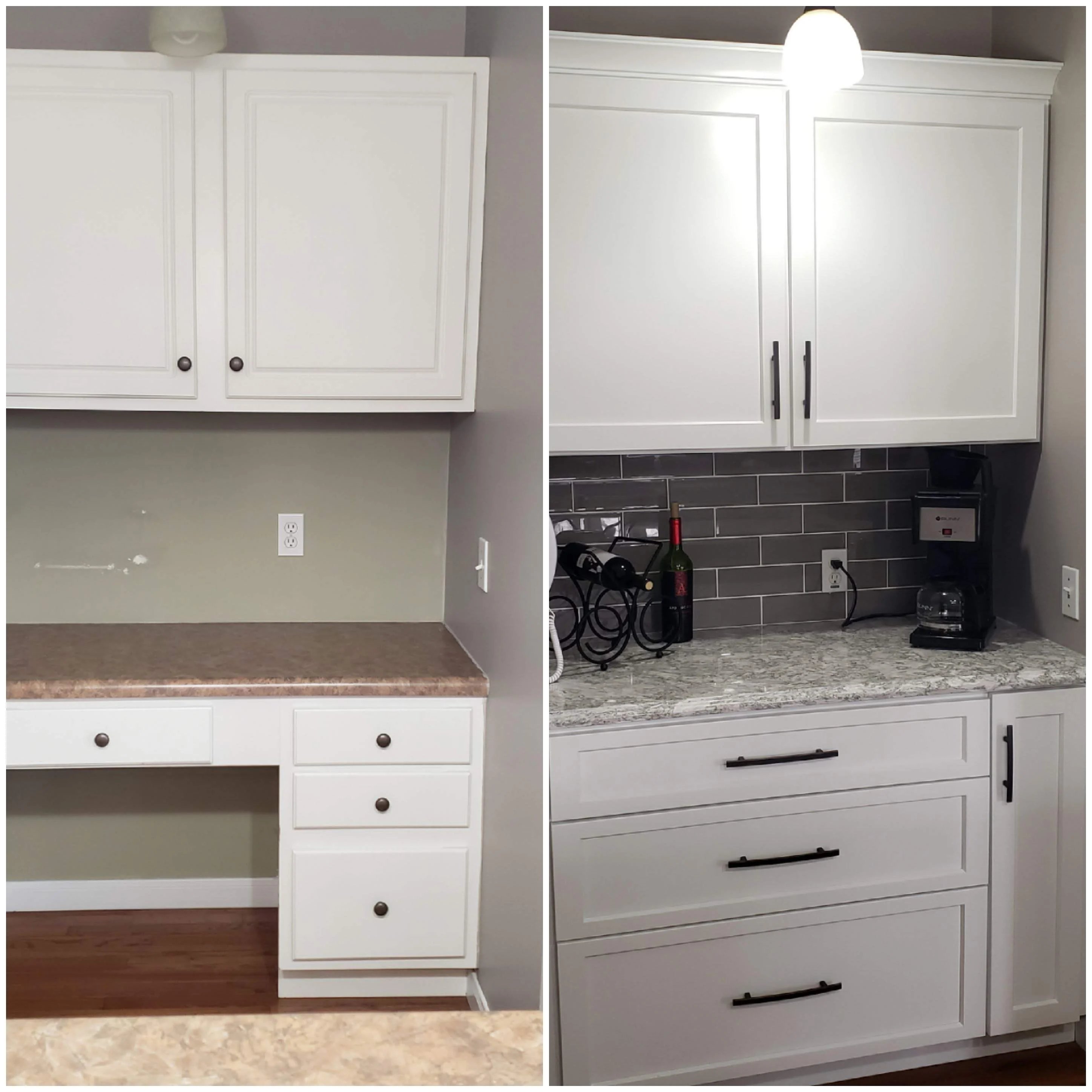 What Areas Can I Re-purpose?
Desk Areas are the most common area that we re-purpose. We commonly convert them to beverage areas or coffee bars. Removing the desk area and putting in deep pots and pans drawers is another common option.
Wet bars and areas where a beverage fridge can be installed is popular. As well as adding stacked cabinets above existing cabinets. When space is available, we can add cabinets to an island if your are planning to change out the counertop.
Can I Alter The Purpose Of An Existing Cabinet?
You don't always have to replace a cabinet to change it's purpose. The best example is converting a lower base cabinet into a pots and pans drawer cabinet.
We don't have to remove the cabinet, we just alter the face frame and then order large drawer fronts and deep drawer boxes to be installed in the existing cabinet. This can also be done to add a trash can pull-out.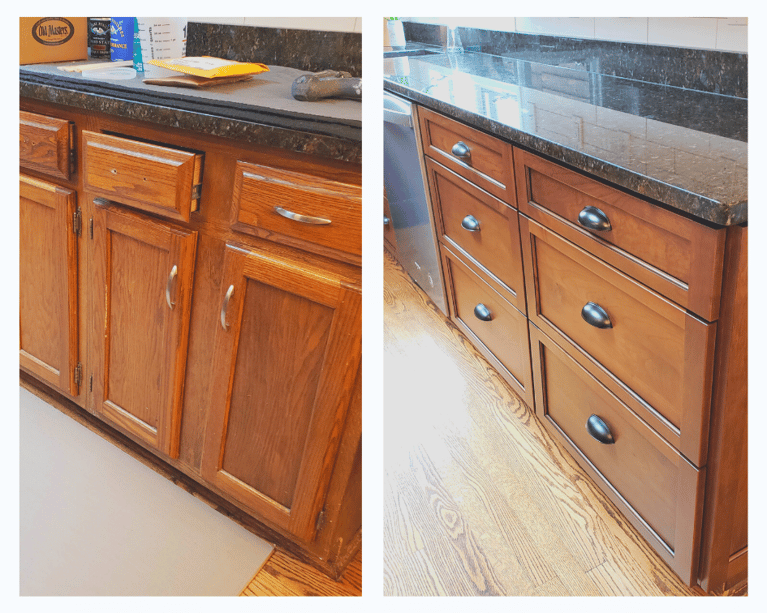 Download Free Cabinet Refacing Guide.
Our Cabinet Refacing Guide is designed to help you decide on the best method for updating your existing cabinets:
Learn about available installation methods.

See different door styles and finishes and how they affect the price.

Compare between a basic cabinet update and a fully trimmed kitchen.

Get Pricing Examples on a 10'x10' kitchen layout.